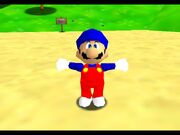 Fares242 is a SM64 Hacker and one of MarioGame2222's best friends. He appeared in Dark Times as main charcter.
Role in MarioGame2222's movies
Edit
So far, Fares242 only appeared in Dark Times. In the first episode of it, Fares242 gets kidnapped by SuperMarioGlitchy3. After X created a clone of him, SuperMarioGlitchy3 brought him to Shifting Sand Land. A few days later, he woke up and got challenged by his clone, Fares353. He won, and together with TheCatsablanca he killed his clone. MarioGame2222 found them and they went back to the Mushroom Kingdom. However MG2222 disappeared during the journey after he entered a strange portal to another dimension.
Super Mario & Planet Stardust's Rampage
Edit
Super Mario & Planet Stardust's Rampage is a SM64 Hack by Fares242 which is in making. It is the sequel to his hack Super Mario & the Power Star Journey. It'll have 100 Stars and many new levels. It'll take place on Planet Stardust where the big Power Star source is. Bowser has taken it away and it's up to Mario to save the stars.