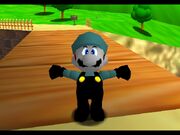 This is MarioGame3333, MarioGame2222's evil clone. He is currently in MarioGame2222's movie, Super Mario: Dark Times.
Role In Cosmic Crystals:Of The World
Edit
MarioGame3333 Made An Apperance In Cosmic Crystals:Of The World,He Was The Main Secondary Antagonist In The Movie,He Went To Find MarioGame2222,But Found The2Hunters Instead Rather Than Defeating His Clone He Battled The2Hunters But Lost He Wasn't Killed Yet It Is Unknown If MarioGame3333 Will Be Killed In Part 48 Or Not.
Role In The2Hunters's Movie
Edit
In The2Hunters's movie, The-2Hunters and the Negative Team MarioGame3333 plays a major role, as the creator of all the Negativers. However, at the end, when Lunar fired him and sent him to the Game Over area in the Third Dimensional World, he went neutral for a while and didn't bother any of the heroes again. He escaped from the 3rd Dimensional World and is planning revenge.
Mariofan13
The3Hunters
LuigiLuigi681
X
X Virus Victims
Lunar (before being fired)
Negativers (before being fired)
MarioGame2222
Pidi64
SuperMarioGlitchy4
XboxFan997
Fares242
TheCatsaBlanca
Mariofan14
LuigiLuigi671
X Virus Survivors
Lunar (after being fired)
Negativers (after being fired)