Mariofan14 is an admin of MarioGame2222 Wiki. 
Star World Counterpart: Stariofan14
Fourth Dimension Counterpart: Quariofan14
Doppelganger: NafOiram41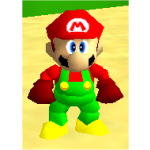 Negativer: Mariofan-14
Evil half: Mariofan13
Brainwashed Alter Ego: Mr. M14
Other forms:
Fire Mariofan14
Ice Mariofan14
Electro Mariofan14
Metal Mariofan14
Invisible Mariofan14
Flying Mariofan14 (With the Wing Cap)
Chaos Mariofan14
Best friends
Edit
Roles in MarioGame2222's videos
Edit
He didn't appeared in any of MarioGame2222's videos yet, however he will appear in Super Mario: Dark Times Episode 8. He'll also appear in The Story Of Starnux later on.
Roles in MarioMario753's Videos:
He appeared in Super Mario: Invasion and The Legend of Ralos
Roles in SuperMarioFan590's Videos:
He appeared in Super Mario: Clone Attack and Bloopers
Roles in Starman3's Videos:
He didn't appear yet, but he will
Dimensional Counterparts:
Stariofan14: Mariofan's SW Counterpart. Probably will appear in a video of MarioGame2222. 
Quariofan14: Mariofan's 4D Counterpart. Will appear with most of the 4D Counterparts in MarioGame2222's Time 4.