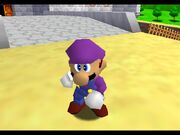 Pidi64 is a YouTuber and one of MarioGame2222's best friends. He's a Super Mario 64 hacker, just like MarioGame2222
Roles in MarioGame2222's movies
Edit
Pidi64 only appeared in Dark Times as main character. In the beginning of the movie he encountered XboxFan998, who defeated Pidi64 and took his DNA. After that, Pidi64 wanted to tell MarioGame2222 about the clones, but MarioGame2222 was already attacked by Fares353 and Pidi's clone, Pidi74. Pidi64 won against his clone, but MarioGame2222 lost against Fares353. Pidi64 had to escape and told the others about the clones. After X and his minions attacked the castle, Pidi64 escaped with Luigi, SuperMarioGlitchy4 and XboxFan997. During their escape, Pidi74 confronted him and they battled again. His clone lost, but Pidi74 set a bomb on Cold Cold Mountin. But the heroes and Pidi64 escaped just in time.
This is the battle between Pidi and his clone:
Pidi64 is the secondary main character in Dark Times. MarioGame2222 is the main hero.
Pidi74's name is a parody of the SM64 hack Super Mario 74